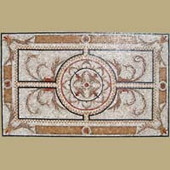 PRODUCT DESCRIPTION
This rectangular french design will enhance your entrance way. Shown in China Black, Rosso Veronna, Giallo Gold, Noce and Botticino tumbled marble.
47″ x 71″ – $5,340.00
PRODUCT AVAILABILITY
This design is custom made with your choice of color and materials. Sizing may also be adjusted. Some materials may affect the price.