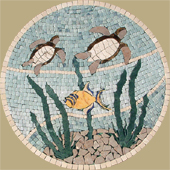 PRODUCT DESCRIPTION
This custom design can be produced with sea creatures of your choice. The diameter of this mosaic is 36″. Pricing will vary depending on design.
PRODUCT AVAILABILITY
This design is custom made with your choice of color and materials. Sizing may also be adjusted. Some materials may affect the price.