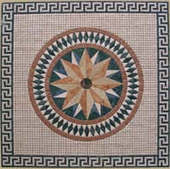 PRODUCT DESCRIPTION
Shown in Verde, Botticino, Rosso Verona, Verde, Cafe Travertine, and Blue Behia on a Light Travertine 5/8 x 5/8 field.
60 x 60″ – $3,334
Note: This design is shown and priced with Blue Behia granite. This same design in 'standard' materials would be $2900.
PRODUCT AVAILABILITY
This design is custom made with your choice of color and materials. Sizing may also be adjusted. Some materials may affect the price.