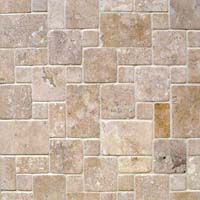 PRODUCT DESCRIPTION
This pattern is made in interlocking sheets that are the equivalent of 1 sq. foot. It can be produced in colors of your choice. Shown in Cafe tumbled travertine.
4×6″ & 4×4″ & 2×4″ & 2×2″ – $15.00 for Cafe, Peach and Chocolate Travertine only. This pattern can be produced in other materials at additional cost.
PRODUCT AVAILABILITY
This design is custom made with your choice of color and materials. Sizing may also be adjusted. Some materials may affect the price.