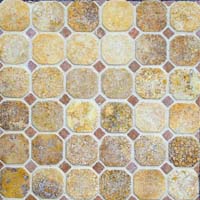 PRODUCT DESCRIPTION
This product is available on 12×12 sheets. It can be produced in colors of your choice. Shown in tumbled Gold Travertine with Rosso Verona dot.
2 x 2″ w 1/2 x 1/2″ – $33.35
PRODUCT AVAILABILITY
This design is custom made with your choice of color and materials. Sizing may also be adjusted. Some materials may affect the price.